All about Northwick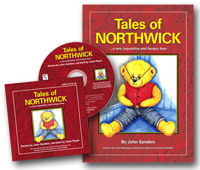 Once upon a time, in a land far, far away, a bear with no name fell upon hard times. After many alarums and adventures (and a distinct lack of vittals), the bear found a new home and a name – Northwick. He is a very special bear. He now lives with a boy called Frank and his family. Both Northwick and Frank have nystagmus.
You can find out more about Northwick and Frank by reading about his adventures on the stories page on this website, in the book and audio CD 'Tales of Northwick' and in the Nystagmus Network newsletter.
To read the very first Northwick story, 'A Bear With No Name', click here.
"Your stories are enchanting and since joining the Nystagmus Network I have learned so much about my nystagmus (mostly from your stories!). I hope that's OK, because I'm a grown-up!"
Other Northwick publications
De Avonturen van Balder
A Dutch language version of the 'Tales of Northwick' book is available from Kaft Media under the title "De avonturen van Balder".
"Dear Northwick, We love reading about your adventures with Frank. Please can you send me a copy of your book so we can read the stories over and over again."
The team behind Northwick
John Sanders, who writes the Northwick stories, has nystagmus and was for many years a committees member and later the information and development manager of the Nystagmus Network. Graphic designer Brian George creates the Northwick illustrations. Brian, together with his brother Les and colleague Mark, created this website.
Many others have contributed to Northwick, often without knowing it, by giving John ideas for stories. So, thanks to all the children, parents, teachers, doctors, orthoptists, optometrists, vision scientists, Nystagmus Network committee members, family and friends who help keep Northwick eating.
As Northwick says…
"It's surprising how many people have helped me along
the way, so a big thank you from me, now where's that biscuit?"